An epic, piano learning adventure game for kids at home or school!
An epic, piano learning adventure made for kids!
Keys & Kingdoms is an all new epic adventure game that makes piano learning fun and easy for kids at home or school!
Gaming that builds real music skills
Children ages 6 to 15 gain effective piano skills as they progress through an epic adventure game designed to keep them engaged, inspired and craving music education like never before!
Want to try it out? Download for free and play now
.
The piano is the controller kids learn to master
Unlike traditional games, kids master the piano as they explore immersive lands, craft weapons, learn new songs and unlock the musical power hidden within themselves!
Adaptive learning for kids at any skill level
Effective teaching methods develop real skills, fast
So whats the secret behind Keys & Kingdoms? A powerful new way of learning called the Sight Reduction Method or SRM! We've incorporated effective methods that allow kids to pick up music fast through rhythms, beats and sound recognition while reducing visual dependency.
Epic adventure gaming makes learning seamless and fun
What better way to say "it's time to learn music" your child can learn through epic enemy battles, weapon crafting, land discovery and more – just like popular title games they love!
Give it a try! Download and play for free now
.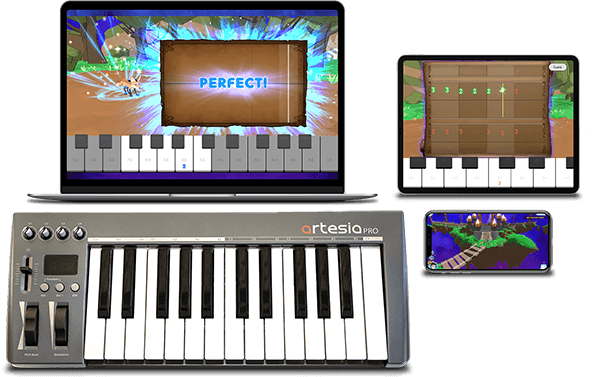 Kids can play anywhere on their favorite devices
Fun, effective music education is now easier than ever to achieve! Children have the flexibility to access Keys & Kingdoms on their favorite devices at home or away – at any hour of the day!
Desktops
Access the game on large screens such as a desktop PC or MAC
Laptops
Utilize the convenience of a laptop for home or away use
IOS Mobile Devices
Compatible on IPad & IPhone mobile devices
"As a tutoring tool, it is absolutely phenomenal and probably one of the best on the market, especially for the 6-15 audience"

What our customers say...
"Keys & Kingdoms' unique style taught my son to use his ears as well as his eyes which enabled him to play music on the first day!"
"We have been trying to get our kids to learn piano for years but nothing really worked. Then we tried Keys & Kingdoms and immediately we could see a difference."
"The first time we tried Keys & Kingdoms, we were immediately impressed. Not only did our kids learn to play songs they loved, but my husband and I also had fun playing the game with them."
Keys & Kingdoms for the music classroom
Our 'Gaming for Good' program is designed with music teachers and educators in mind. Schools can now get their students excited to learn piano with the most fun, simplistic method around.
"A phenomenal, unmatched piano tutoring tool gamified"

Give your child the confidence and belief that learning music is for them!