Get started on your piano learning adventure today!
Choose a membership plan or purchase the Keys & Kingdoms Bundle to start your piano learning adventure.
Choose Your Membership...
Monthly
Monthly Membership
Try It FREE For 14 Days! Cancel Anytime
Billed monthly until cancelled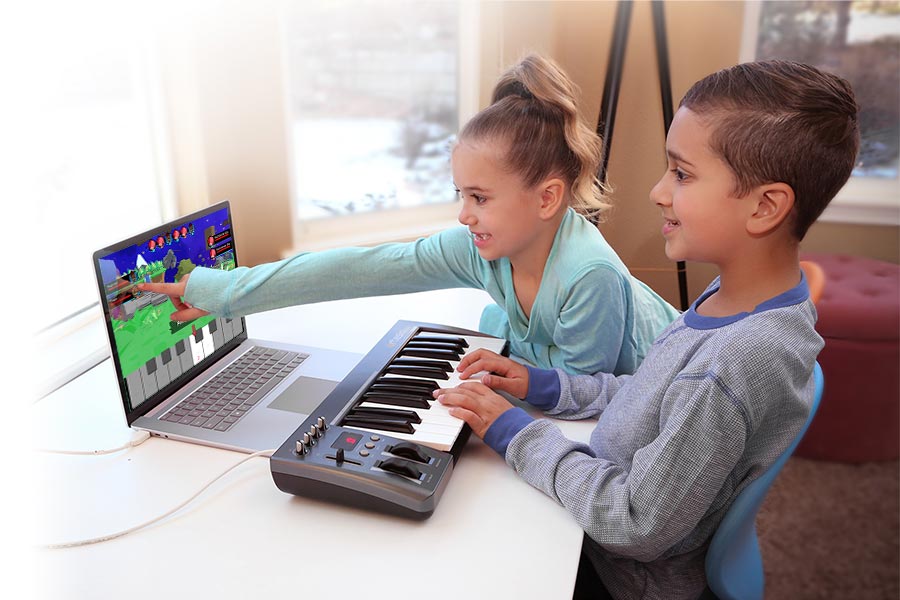 Enjoy simple monthly pricing!

Create Up To 3 Player Profiles

All Future Updates to Songs, Mini Games, Quests & More

Learn via On-Screen Piano. A Piano/Midi Keyboard Will Be Required For Advanced Levels

Compatible with 3rd-Party Pianos & Midi Keyboards*

Midi Keyboard Controller & iOS Adapter Cable Not Included
Membership Renews at $7.99 USD / Month. Cancel anytime.
Yearly
Bundle
To get the best experience with Keys & Kingdoms™ on your computer, we recommend either a computer less than five years old with a dedicated graphics card or a laptop less than three years old with an integrated video card. iOS – For iOS, we recommend iOS 11 or later or an iPhone 6s or better or an iPad from 2015 or later. A list of all compatible devices can be found on the Apple App store. Android – Currently, Keys & Kingdoms™ does not support Android devices, but we will be adding support for them in the future.
Windows, Mac & IOS Devices
See what happy customers have to say about their experience with Keys & Kingdoms.
"Immediately we could see a difference"
"We have been trying to get our kids to learn piano for years but nothing really worked. Then we tried Keys and Kingdoms and immediately we could see a difference."

"Enabled him to Play music on the first day"
"Keys and Kingdoms' unique style taught my son to use his ears as well as his eyes which enabled him to play music on the first day!"

"We Were Immediately Impressed"
"The first time we tried Keys and Kingdoms, we were immediately impressed. Not only did our kids learn to play songs they loved, but my husband and I also had fun playing the game with them."

Frequently asked questions
Do you offer a free trial?
Yes, Keys & Kingdoms is available to try FREE for 14 Days when you choose a monthly membership.
Why a monthly subscription?
We strive to make piano lessons affordable and fun for all kids. As a monthly membership, we can keep Keys & Kingdoms at a low cost while providing free game updates and support.
I have multiple kids who would like to play. Is this possible in the game?
With every profile, Keys & Kingdoms can support up to 3 individual player profiles.
Can I install the game on multiple devices?
Keys & Kingdoms can be installed on your favorite Windows, Mac & iOS devices.
Is my progress tracked on all my devices?
Yes, Keys & Kingdoms will sync all your progress so players can pick up where they left off, anytime.
Is this game for adults to play?
While Keys & Kingdoms is designed for children ages 6 to 15, any piano beginner can play and learn including adults!
Can I cancel my membership anytime?
Yes, you can cancel your membership in settings anytime. This will prevent your account from auto-renewing. You will still have full access to your account up until the end of your next billing cycle.
Can I get a full refund if I cancel my membership?
You can write us an email to ask for a refund for a yearly subscription if you cancel it within 14 days of purchase. No refund is available for a monthly membership.
Your musical journey starts now
.
Free Download
(no credit card required)
Compatible on iOS, Windows & Mac

Play via On Screen Piano or Your Piano/Midi Keyboard
30 Day Free Trial
(credit card required)
Compatible on iOS, Windows & Mac

Play via On Screen Piano or Your Piano/Midi Keyboard
Subscription
(credit card required)
Compatible on iOS, Windows & Mac

Play via On Screen Piano or Your Piano/Midi Keyboard

All Future Updates to Songs, Mini Games, Quests & More

Keyboards available at checkout
Best Buy Bundle
(all in one)
$
99
+ Free 3 Month Subscription
Compatible on iOS, Windows & Mac

Play via On Screen Piano or Your Piano/Midi Keyboard

All Future Updates to Songs, Mini Games, Quests & More

Includes Midi Keyboard Controller + iOS USB Adapter