Turn your
classroom
into a piano learning adventure
Enroll in the 'Gaming for Good' program by Keys & Kingdoms and get your students excited to learn piano with the most fun, simplistic method around.
Children ages 6 to 15 to learn piano through supplementary teaching methods and break-through adventure gameplay.
Perfect for small and large classrooms
Hear from a few of our proud music programs who already enjoy Keys & Kingdoms in their small and large classrooms!
"As we played Keys & Kingdoms with my students, I saw the light of excitement in their eyes!"
– Rosa, K-8 School in Florida
"Overall I saw the children enjoying themselves and love how the game adjusted to their level of play."
– North Kohala, K-8 School
"My class has shown a huge interest in playing piano independently."
– Ben, K-6 School in Chicago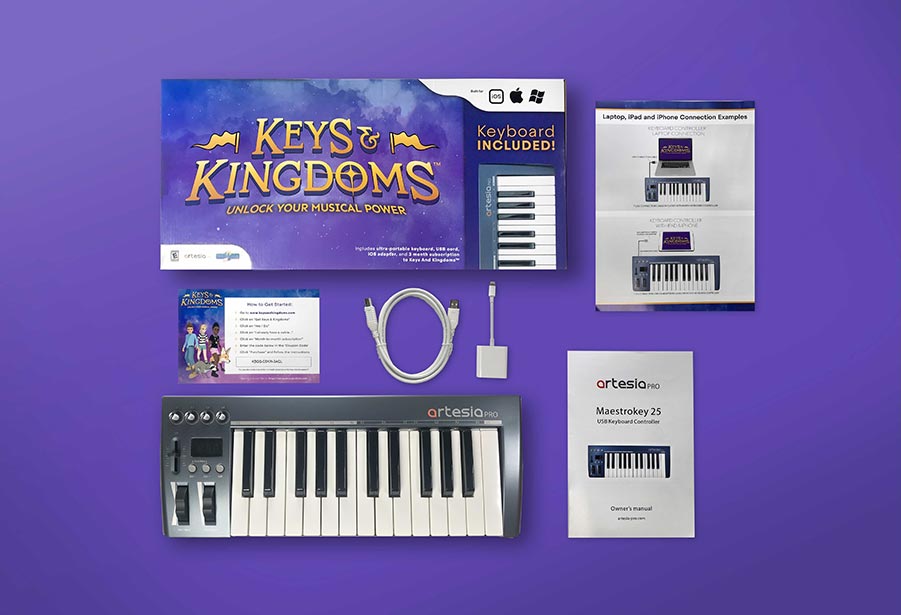 A one-of-a-kind piano learning experience
Effective teaching methods develop real skills, fast
So what's the secret behind Keys & Kingdoms? A powerful new way of learning called the Sight Reduction Method (SRM)!
Students pick up music fast through rhythms, beats and sound recognition while building aural literacy.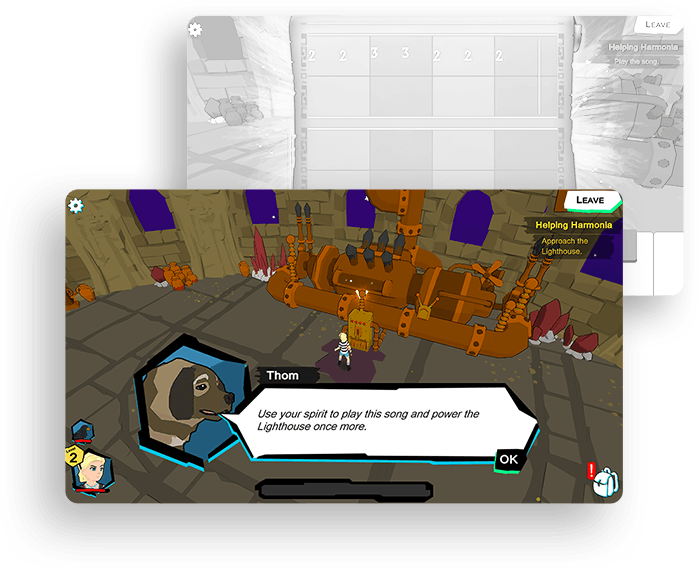 Epic adventure gaming motivates kids to learn piano
What better way to say "it's time to learn music" when you can engage your students through epic enemy battles, weapon crafting, land discovery, mini games and real piano learning!
See how much Keys & Kingdoms can make a difference in their music learning lives!
Makes teaching music seamless
Get all the benefits of an unmatched music learning style that fits right into your physical and virtual classroom!
"As a tutoring tool, it is absolutely phenomenal and probably one of the best on the market, especially for the 6-15 audience."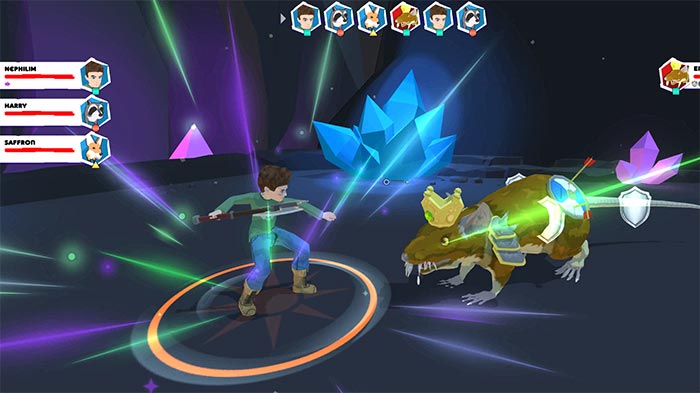 Mini Games
Adventurous role playing will keep your students engaged and learning piano like never before!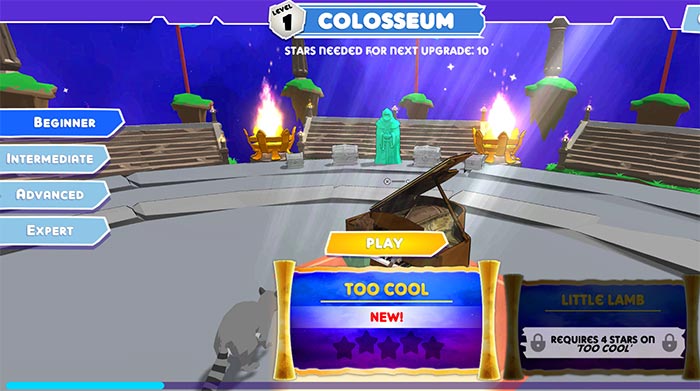 Side Quests
Side quests help students noticeably improve their ability to recognize and play sounds, rhythms and beats they hear.
Ages 6 to 15
Individual students can learn at their own pace, no matter what their initial level of musical proficiency may be.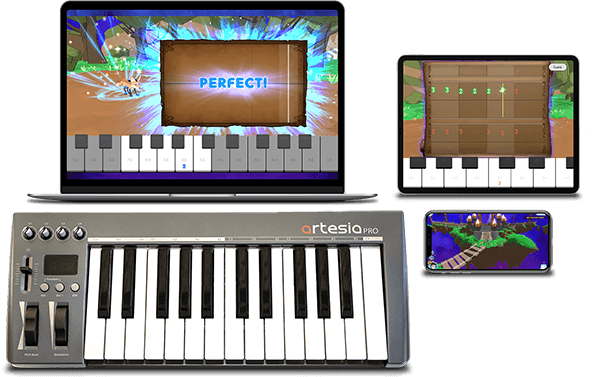 Let your students play anywhere on their favorite devices
Fun, effective music education is now easier than ever to achieve! Children have the flexibility to access Keys & Kingdoms on their favorite devices – anywhere in the classroom!
*Windows, Mac & iOS Devices
Desktops
Access the game on large screens such as a desktop PC or MAC
Laptops
Utilize the convenience of a laptop for classroom portability
IOS Mobile Devices
Compatible on IPad & IPhone mobile devices
To get the best experience with Keys & Kingdoms™ on your computer, we recommend either a computer less than five years old with a dedicated graphics card or a laptop less than three years old with an integrated video card. iOS – For iOS, we recommend iOS 11 or later or an iPhone 6s or better or an iPad from 2015 or later. A list of all compatible devices can be found on the Apple App store. Android – Currently, Keys & Kingdoms™ does not support Android devices, but we will be adding support for them in the future.
Adaptive learning for every skill level
With smart adaptive technology baked into our platform, every student can start at their own level and advance at a pace that is unique to them!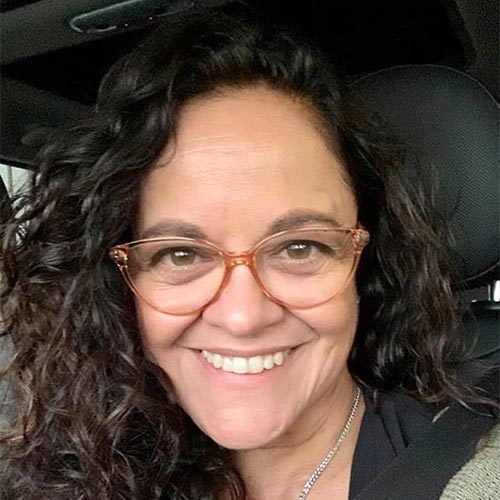 "As we played Keys & Kingdoms with my students, I saw the light of excitement in their eyes!"
– Rosa, K-8 School in Florida
"A phenomenal, unmatched piano tutoring tool gamified"

Track your students progress and success
Understand how your students are advancing through musical challenges and mini games. View a weekly progress report that summarizes their training.
Have Questions? We can help
Keys & Kingdoms is designed to help you along your music teaching journey. If you have any questions checkout the information below or reach out to one of our team members.
Enroll in a no risk, free trial now!
Try our no-risk, free trial when you enroll Gaming for Good today. We'll help you get started!