View the trailer: Keys & Kingdoms
So what is Keys & Kingdoms?
Keys & Kingdoms is an epic adventure game that teaches kids real piano skills as they play. It's a unique concept designed to get kids so engaged with exploring lands, defeating enemies, and crafting weapons (just like the popular title games they spend hours playing) that they won't even realize they're learning piano!
The piano is the controller
Adventurous role playing will keep you kids engaged for hours and learning piano like never before!
An Adaptive Learning Engine allows kids to learn at the right pace, at any skill level
A proven Sight Reduction Method makes learning music fast, easy and effective
Portability means you can play anywhere on your favorite Windows, Mac and iOS devices
Kids ages 6 to 15 will learn to master original songs, traditional songs and songs they create on their own!
Most importantly, what kids learn in the game – they can play on a real instrument!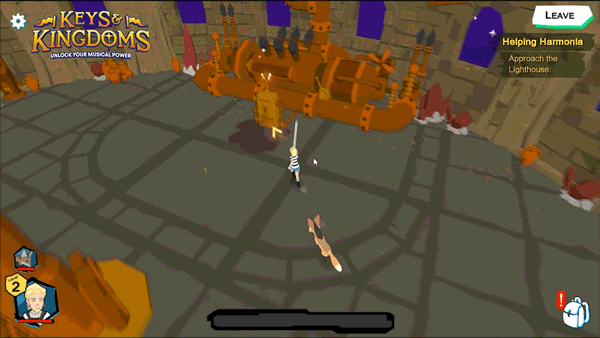 We want to change the way music education is delivered.
Our mission is to give every child the confidence and belief that learning music is for them. Since children are constantly engaging with games that don't educate, we wanted to bring music education to their world.
Keys & Kingdoms incorporates epic adventure gameplay and a revolutionary teaching method called the Sight Reduction Method, or SRM.  This proven concept slowly removes all visual cues/aids as sources of musical information and trains kids to play anything by ear, instantly.
See how Alex learned to play the Keys & Kingdoms theme song on piano using only SRM!
There's no better time to shake up the industry.
Parents want to give their child all the benefits of learning a musical instrument but private music lessons are too expensive and stale causing high dropout rates.
Music Educators/Teachers want fun, effective ways to keep kids engaged in the classroom but lack fresh, innovative materials.
Kids want to spend hours on exciting console games but those fail to deliver any real educational value.
As the Covid pandemic is shaping the way we learn/interact inside and outside the home or classroom, we want everyone to know that music education can be seamless and enjoyable for all.
Which is why we're backed by some of the hard-hitting names in our space.
2020 has been an exciting, hard-working year as our team and product has evolved!
The result is a musical role-playing game that has the backing of industry veterans such as Wyeth Ridgway of Laviathan Games (which has worked with Capcom, Sony and EA Sports) and Brian Hodous (formerly of Activision Blizzard Inc.) who's behind the wildly successful $2 billion Guitar Hero franchise!
Now parents, teachers and kids can experience music learning in a whole new way.
Anyone can download and play the free trial for Windows, Mac and iOS – even without a piano or keyboard controller.
Hint: Your computer keyboard or touch screen device will get you started just fine.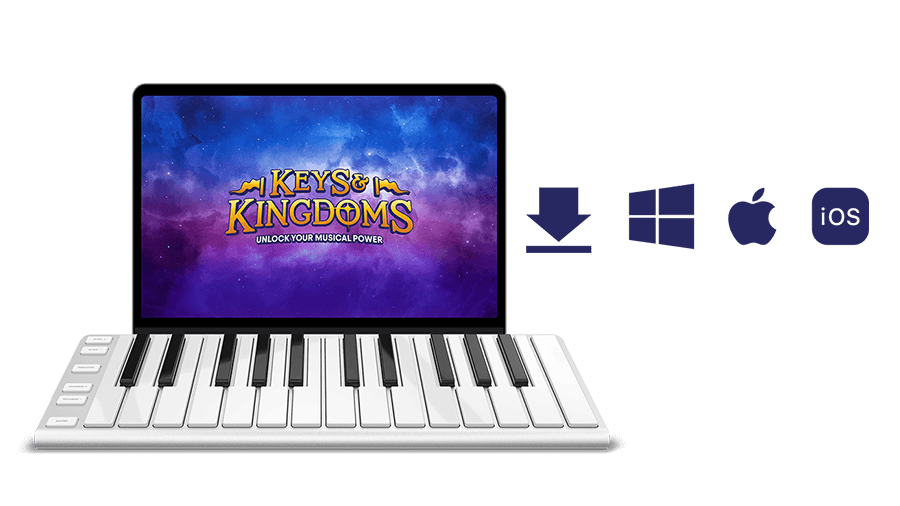 BUT if your serious about getting Keys & Kingdoms for your child or giving the gift of music to someone else, we have a discounted bundle at Best Buy that includes everything you need to get started. Check it out…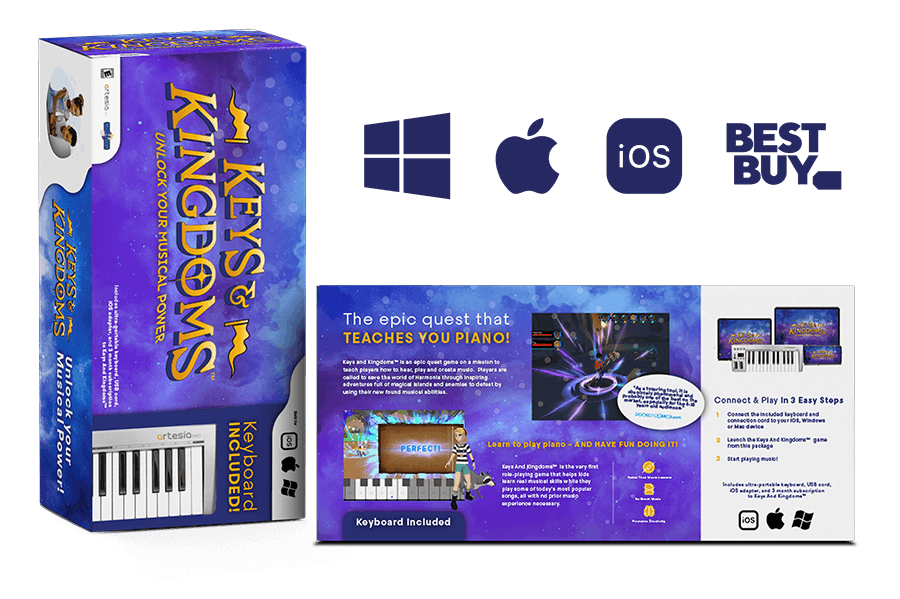 Getting started is super simple.
Just download the game, connect a keyboard and experience the most seamless music learning adventure yet!